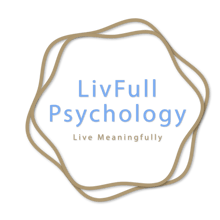 The Purpose of Anxiety
Learn about the purpose of anxiety and how it affects behavior. Understand the biology of fear and the fight, flight, or freeze response. Get tips on managing anxiety and know that you are not alone in experiencing it.
ANXIETYNEUROBIOLOGYSURVIVAL AND FIGHT-OR-FLIGHT
Anxiety Exist For A Reason: Understanding its Purpose and Biology
What is Anxiety Disorder?
Anxiety is a normal and often healthy emotion characterized by feelings of unease, nervousness, worry, or fear.
When a person regularly feels disproportionate levels of anxiety, it might become a type of mental health condition. Anxiety disorders are the most common mental disorders in most countries. General symptoms of anxiety disorders can include:
Feeling restless or on edge

Easily fatigued

Difficulty concentrating

Irritability

Muscle tension

Sleep disturbance
However, there are many different types of anxiety disorders but some of the most common ones include;
Generalized Anxiety Disorder (GAD): characterised by excessive and unrealistic worry about everyday events and activities.

Social Anxiety Disorder (SAD): characterised by an intense fear of social situations and being judged or evaluated by others.

Panic Disorder (PD): characterized by sudden and unexpected panic attacks, along with persistent fear of future attacks.

Specific Phobias: characterized by an intense fear of specific objects or situations, such as heights or flying.

Post-Traumatic Stress Disorder (PTSD): characterised by severe anxiety, flashbacks, and avoidance behaviours following a traumatic event.

Separation Anxiety Disorder: characterised by excessive anxiety when separated from a primary caregiver or attachment figure.

Agoraphobia: characterised by fear of being in places or situations from which escape might be difficult or help unavailable in the event of a panic attack.
Previously, Obsessive-Compulsive Disorder (OCD), which is characterised by unwanted and recurring thoughts (obsessions) and repetitive behaviours (compulsions) aimed at reducing anxiety, was also categorised as an anxiety disorder. However, in the latest edition of the Diagnostic and Statistical Manual of Mental Disorders (DSM-5), OCD is now classified as a separate category called "Obsessive-Compulsive and Related Disorders". The change was made to reflect new research findings (see also) on the underlying causes and characteristics of OCD, which have shown that it is distinct from other anxiety disorders.
What is the Purpose of Anxiety?
Anxiety exists for a reason. Humans evolved to have a fight, flight, or freeze (or a more reader-friendly version) response to alert us to danger. It helps us to act in these stressful situations. Typically, when appropriate, these responses help us protect ourselves, increase our motivation, develop and improve ourselves, and connect with others.
However, people with anxiety can feel this type of intense physiological response in a variety of situations that feels threatening. At these times, the brain triggers a response meant to help in life-threatening situations for ones that aren't actually dangerous. The physical response can vary — you might act impulsively, escape the situation or freeze up. This response is not unique to only some people, so you are not alone. Anxiety is a very natural and adaptive reaction.
Through extensive studies on the biology of fear and anxiety, researchers have found that the region that may be responsible for fear and anxiety is called the Amygdala. Although it has other functions too, one of its purposes is to scan for 'danger signals', raise the 'alarm' and activate our 'Flight', 'Fight' or 'Freeze' responses. The amygdala has extensive connections to other brain regions (that are responsible for other parts of our behaviour), and can effectively influence them, as danger is a priority for our survival. It can therefore often 'hijack' the more rational parts of our brain (typically called the Cortex). The amygdala that we inherit may be more or less sensitive to danger, often depending on our genetic makeup, our environment and our experiences in life.
Treatment of Anxiety Disorders
Anxiety disorders are treated by a combination of psychiatric medications and psychotherapy, with the latter being an effective form of treatment for reducing symptoms of anxiety. One form of psychotherapy that has been shown to be particularly effective in treating anxiety is cognitive-behavioural therapy (CBT). CBT is therefore recommended by national and international guidelines for anxiety, and many other mental health conditions.
Cognitive-behavioural therapy is a type of psychotherapy that focuses on the thoughts, beliefs, and attitudes that contribute to anxiety disorders. It aims to change the way a person thinks, behaves, and interacts with the world.
The cognitive component of CBT focuses on identifying and challenging unhelpful thoughts and beliefs that contribute to anxiety. For example, a person with social anxiety may have unhelpful thoughts about social interactions, such as "I will make a fool of myself" or "Everyone will judge me". These thoughts can lead to anxiety and avoidance behaviours, such as not going to social events. CBT helps the person identify and challenge these thoughts and replace them with more realistic and adaptive ones.
The behavioural component of CBT focuses on changing the behaviours associated with anxiety. For example, a person with social anxiety may avoid social interactions, which can lead to increased anxiety. CBT helps the person gradually expose themselves to social situations and learn that they can handle them. This is known as exposure therapy.
CBT for anxiety is typically short-term, usually lasting for 12 to 20 sessions. It is a structured approach, with specific goals and homework assignments, such as keeping a thought diary or practising exposure therapy.
CBT has been shown to be effective in treating a variety of anxiety disorders, including Generalized Anxiety Disorder (GAD), Social Anxiety Disorder (SAD), Panic Disorder (PD), and Obsessive-Compulsive Disorder (OCD). It can also be used in combination with medication for more severe cases of anxiety.
Overall, CBT is an effective form of psychotherapy for treating anxiety disorders. It helps individuals identify and change unhelpful thoughts and beliefs, and change the behaviours associated with anxiety. If you are struggling with anxiety, consider talking to a mental health professional about CBT as a treatment option.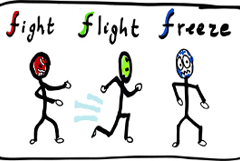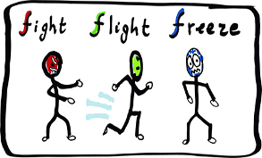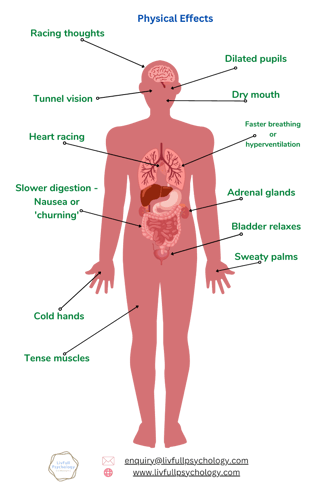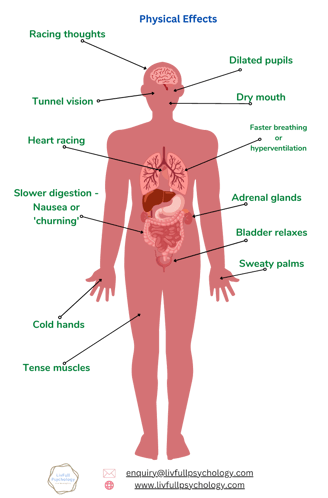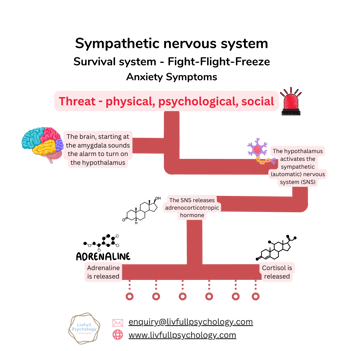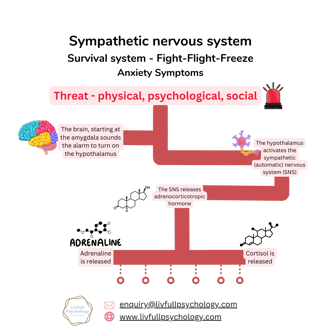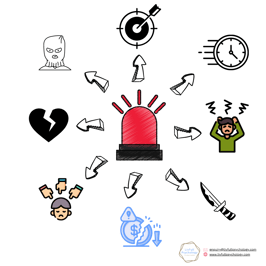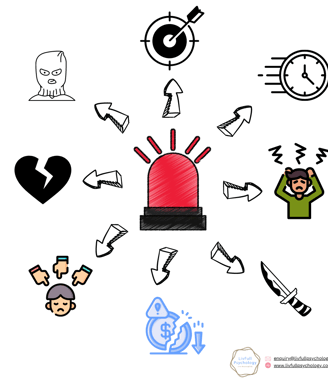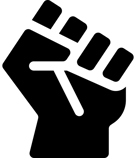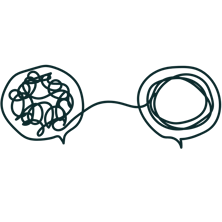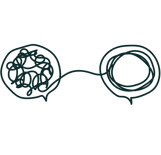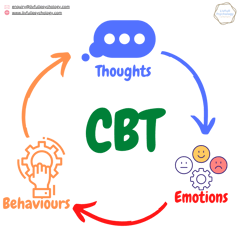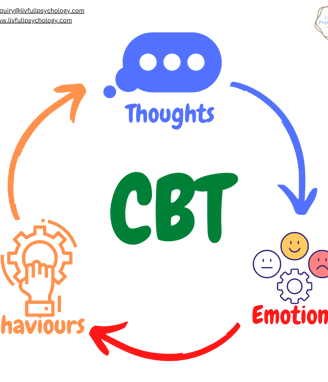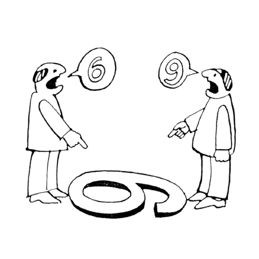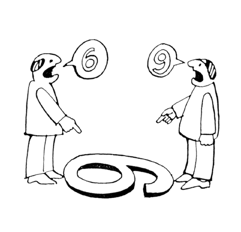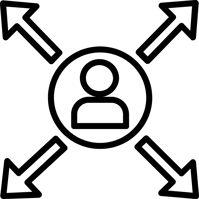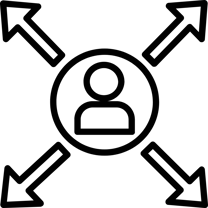 If you've made it this far... Thank You!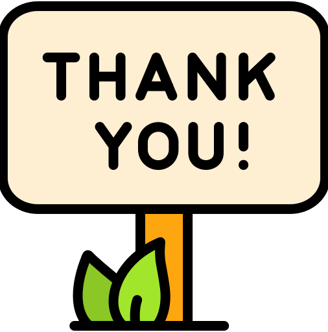 If you liked this content, please subscribe below to my blog as I will write about a range of psychology and mental health-related topics.
You can also follow me on social media if you are keen to get updates on my services and content about improving mental health!
We humans have evolved the fight response so that we are ready to take action when we are faced with a threat (note: the threat can be physical, social or psychological). For example, if we're attacked by a large animal in the wild, we might have to be ready to fight it! When we channel the fight response appropriately in the modern world, we might decide to go on a protest or demonstration for a cause. This response helps us to focus and gives our muscles oxygen and our body energy so that we can fight. If this response is unregulated, it might make us overly aggressive in situations that aren't really threatening – that is our anxiety or fear leads to the development of anger-related issues.
We have evolved a flight instinct when presented with something scary or overwhelming in order to keep ourselves safe! When we face something that could actually harm us, this instinct helps to alert us that leaving might be the best way to keep us unharmed. That being said, in today's world, many people feel this instinct when presented with a stimulus that won't likely harm them. Thus, if this response is unregulated, it might lead to procrastination or isolation, which may result in a low mood.
The freeze response allows us some extra time to quickly assess a dangerous situation. It gives us time to decide whether to fight or run away. When prey has been caught and feels helpless, it freezes in order to fake death, which might give it an opportunity to escape. Likewise, people with anxiety might feel helpless while faced with an obstacle, so they freeze to decide what to do next or they might go blank and be unable to continue working.
Subscribe to LivFull Blog